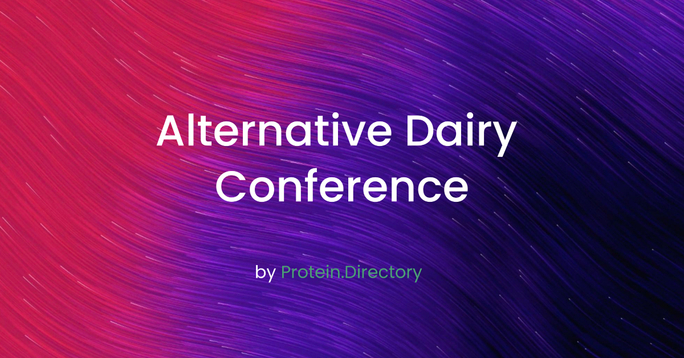 We are delighted to announce that we're organizing the largest alternative dairy conference of 2021 covering the latest business trends and best practices transforming the future of food. With a special focus on alternatives for dairy applications like cheese, milk and yogurt.
About the program:
New wave of consumer end products disrupting dairy industry: Cheese / Milk/ Quark alternatives
Food tech, future wave of functional ingredients to increase texture, creaminess and sensory attributes
EU Regulatory landscape: labeling, advertising, naming
How to protect Intellectual Property (IP)
Consumer trends in nutrition, health and sustainability
Inspiring keynote on how to be disruptive in alt dairy business
Lightning talks from service providers to support food industry

accelerating innovation and business
how to scale up and commercialize innovation

Business opportunities

investing in Alt dairy
market analysis of alt dairy product categories
Startup pitch session
Featured speakers:
Anton Pluschke from Vly
Michelle Egger from BIOMILQ
Brad Vanstone from Willicroft
Clémence Landeau from UPDATE Foods Co Ⓥ
Sujala Balaji, CFS from Rainfed Foods
CFS Noam Dekkers from Planterra Ltd - Naturally Innovative
The video recordings of the conference are now available online:
The event was organized in collaboration with Protein Directory, Cell Agri, OMVE Lab & Pilot Equipment, GFI (The Good Food Insitute), and HGF.
The Future of Dairy: 3 Startups to Watch
Where is the alternative dairy industry heading? What are the upcoming product categories? Who's creating those new products?
Find your answers by check out these shorts presentation of 3 startups working on the future of dairy:
BIOMILQ
Comprehensive and sustainable infant nutrition by producing cultured (produced in a lab) breast milk (by Michelle Egger, CEO)
Rainfed Foods
A millet-based smart milk producer (by Sujala Balaji, CEO)

Willicroft
A plant-based cheese for dairy cheese lovers (by Brad Vanstone, CEO)