The highly anticipated Future Food-Tech Alternative Proteins Summit is set to make its grand return to New York in 2023. This prestigious event will serve as a gathering ground for the foremost players in the alternative protein industry, converging to explore the sector's challenges and strategize for success in the current market landscape.
To help you make the most out of your visit to the Future Food-Tech Summit, we've crafted this comprehensive guide.
We'll walk you through the essentials, from preparing for the event to getting there with ease. What's more, we'll highlight some of the key speakers and panel discussions you won't want to miss, show you how to absorb the wealth of knowledge, forge meaningful connections, and discover some unique insights that will leave you hungry for more.
Preparing for the Future Food-Tech Alternative Proteins Summit
What to expect
The Future Food-Tech Alternative Proteins Summit attracts a diverse range of attendees from various sectors of the alternative protein industry, including investors, researchers and scientists, start-ups, ingredient providers, policymakers and regulatory bodies, biotech companies, and global consumer brands.
In addition to networking, attendees can expect a dynamic and immersive experience that offers a multitude of opportunities to learn, collaborate, and be inspired.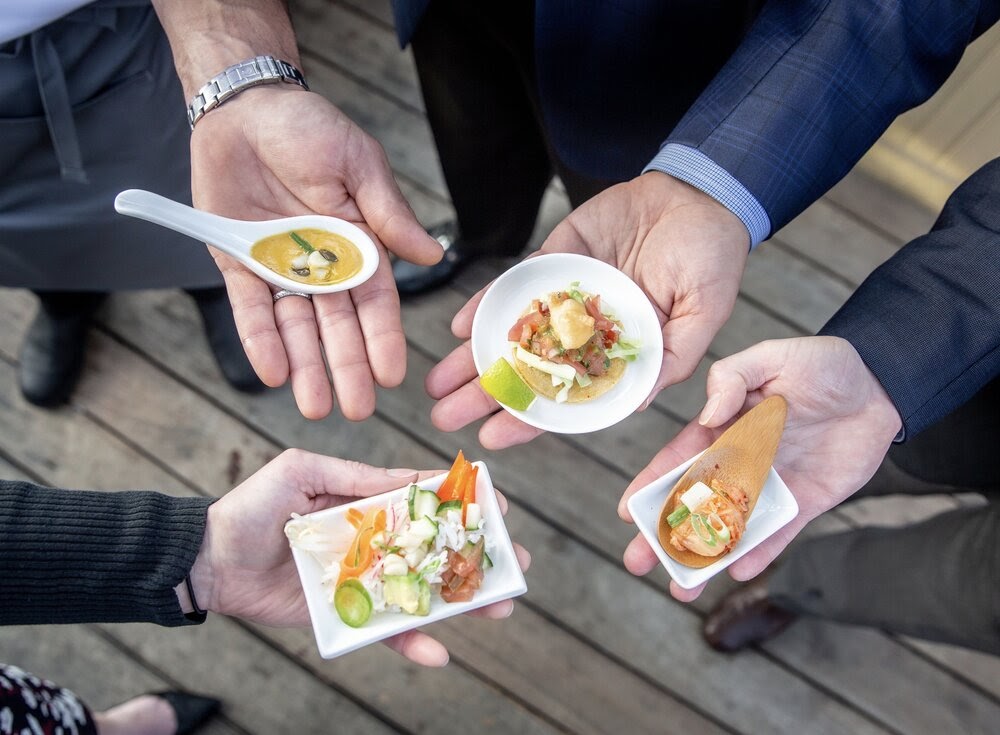 The program encompasses on-stage cooking demonstrations, intimate product tastings, and an enticing menu brimming with innovative meat, seafood, and dairy alternatives. These experiences will enhance the extensive lineup of thought-provoking panel discussions, fireside chats, and roundtable breakouts.
Registering for the event
The Future Food-Tech Summit is available to attend in person or virtually; both options provide valuable learning, networking, and engagement opportunities within the alternative protein industry.
Virtual attendance
The virtual experience allows for on-demand session viewing, virtual networking, access to the virtual exhibition, and the ability to download contacts for follow-up.
In-person attendance (plus virtual)
Attending in person offers the opportunity to actively engage in live panels, network face-to-face with industry experts, participate in tastings and product launches, and explore the exhibition area. If you register for in-person attendance, you also benefit from the virtual access as well.
Venue and opening times
The Future Food-Tech Summit will be held from June 27th until June 28th, 2023 at the Marriott Marquis in New York. The opening keynote talk will start at 9 am US Eastern Time on June 27th.
1535 Broadway
New York
NY 10036
Situated in the heart of Times Square, the Marriott Marquis offers easy accessibility and outstanding hospitality. Renowned for its world-class facilities, the venue is the perfect setting for this high-profile event.
Accommodation options
While accommodation isn't included in Future Food-Tech 2023 ticket prices, exclusive rates are offered to attendees for convenient accommodation at the New York Marriott Marquis.
Alternatively, there are numerous other hotels, guesthouses, and accommodation options available throughout New York City to suit various needs and budgets.
When considering alternative accommodations, it is advisable to consider factors such as proximity to the summit venue, transportation options, and personal preferences. It is recommended to book your accommodation well in advance to secure the best availability and rates, especially considering the anticipated busy period in the city during the event.
BROWSE ALTERNATIVE ACCOMMODATION
Travel information
New York City is served by three major airports: John F. Kennedy International Airport (JFK), LaGuardia Airport (LGA), and Newark Liberty International Airport (EWR). From the airports, you can reach the Future Food-Tech Summit at the Marriott Marquis Times Square using various transportation options, including taxis, ride-sharing services, airport shuttles, or public transportation.
What's on at Future Food-Tech 2023
The summit features a diverse range of activities, including keynote speeches by industry leaders, panel discussions on topics like the commercialization of cultivated meat and products derived from precision fermentation; live cook-offs and demonstrations of the latest in plant-based food and technological innovation; and networking sessions for participants to connect and exchange ideas on topics relevant to their businesses.
Join Bright Green Partners and other distinguished speakers
In addition to sponsoring the event, we are thrilled to announce that Floor Buitelaar, Co-founder and Managing Partner at Bright Green Partners, will be participating alongside esteemed keynote speakers at the Future Food-Tech Alternative Proteins Summit.
Joining industry luminaries such as Caroline Bushnell from The Good Food Institute, Ranjani Varadan of SHIRU, and Peter Licari of Eat Just (among many others), Buitelaar will bring her expertise and insights to the forefront of discussions and moderate a panel on overcoming manufacturing bottlenecks to achieve scale.
Before attending the event, make sure to read up on our latest study: Plant-based meat manufacturing capacity and pathways for expansion.
Attendees can expect to witness a dynamic exchange of ideas, cutting-edge technologies, and innovative solutions that are shaping the future of the food industry. Bright Green Partners' presence underscores our commitment to driving positive change within the field of alternative proteins through transformative dialogue and collaboration.
Making the most of the Future Food-Tech Summit
To make the most of the summit, we recommend that you brush up on key industry insights beforehand. Familiarize yourself with the latest trends, technologies, partnerships, and challenges shaping the food-tech landscape.
Additionally, come prepared with thought-provoking questions and specific networking goals to maximize your interactions with industry leaders and fellow attendees. Actively participate and engage in panel discussions, workshops, and breakout sessions, taking advantage of opportunities to share your insights and learn from others.
Lastly, make valuable connections before the event by reaching out to us, Bright Green Partners, and connecting with Floor Buitelaar on LinkedIn.
We look forward to connecting with you and discussing the future of alternative proteins at the upcoming summit!