Several exciting plant-based trends emerged in 2022, from the rise of plant milk drinkers to the global expansion of meat-free fast food stores.
And the plant-based food industry is showing no signs of slowing down. So, what does the future hold in store for consumers and industry players in 2023?
Based on our work with key stakeholders and high-impact investors, we'll be covering some of the top trends from each of the core technology segments that are currently dominating the animal product replacement (APR) food landscape, including plant-based, fermentation, and cultivation.
Although these trends can be differentiated by the technologies underpinning them, at their core, they are all considered part of the "plant-based" movement. Moreover, with the rise of hybrid products made using a combination of techniques, they all merit consideration.
Before zooming in on the specific trends, we'll start with an overview of the APR market, including regional food market differences, our short and long-term predictions, and market growth projections.
What are APRs?
Animal product replacements (otherwise known as alternative proteins) are animal-free products that aim to replace their animal-derived counterparts, such as meat, dairy, seafood, and eggs. They're designed to emulate these in taste, texture, and culinary experience, as well as in price and availability.
APRs can include products made from legumes, nuts, fungi, algae, or even cultivated animal cells. What's more, plant-based, cultivation, or fermentation production technologies further differentiate the end products.
Read our article on alternative proteins for a broader perspective.
Overview of the sectors
As demonstrated in the graph below, plant-based processed dairy, meat, and seafood products have already achieved commercialization, with several competitive products already on the market.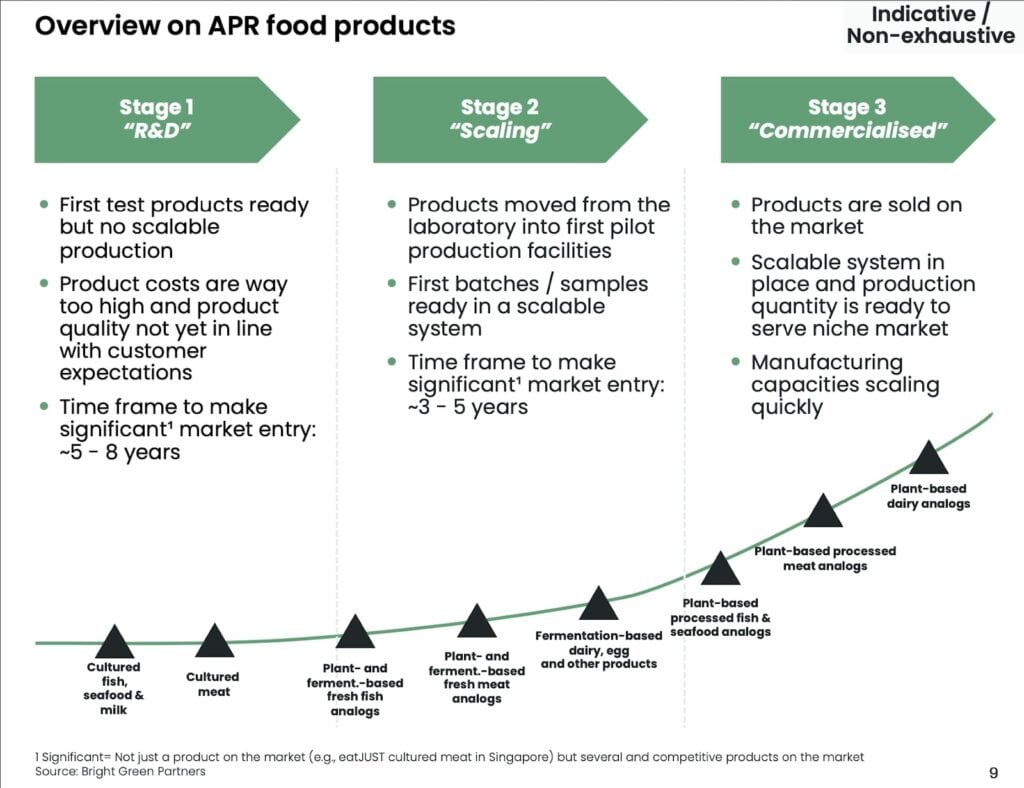 Cultivated products remain mostly in the research and development stage, while the majority of plant-based fresh meat and fish analogs and fermentation-based dairy and egg products are in the process of scaling up production. It is still early days for these segments and infrastructure is the key to testing, upscaling, and mass-producing them.
Nevertheless, this bottleneck presents numerous opportunities for first movers and, at Bright Green Partners, we are already supporting several companies to strategize and build robust supply chains.
As such, we predict that fresh meat and fish analogs and fermentation-based dairy and egg products will become the most commercially relevant categories in the next 5 years.
Regional differences for plant-based market trends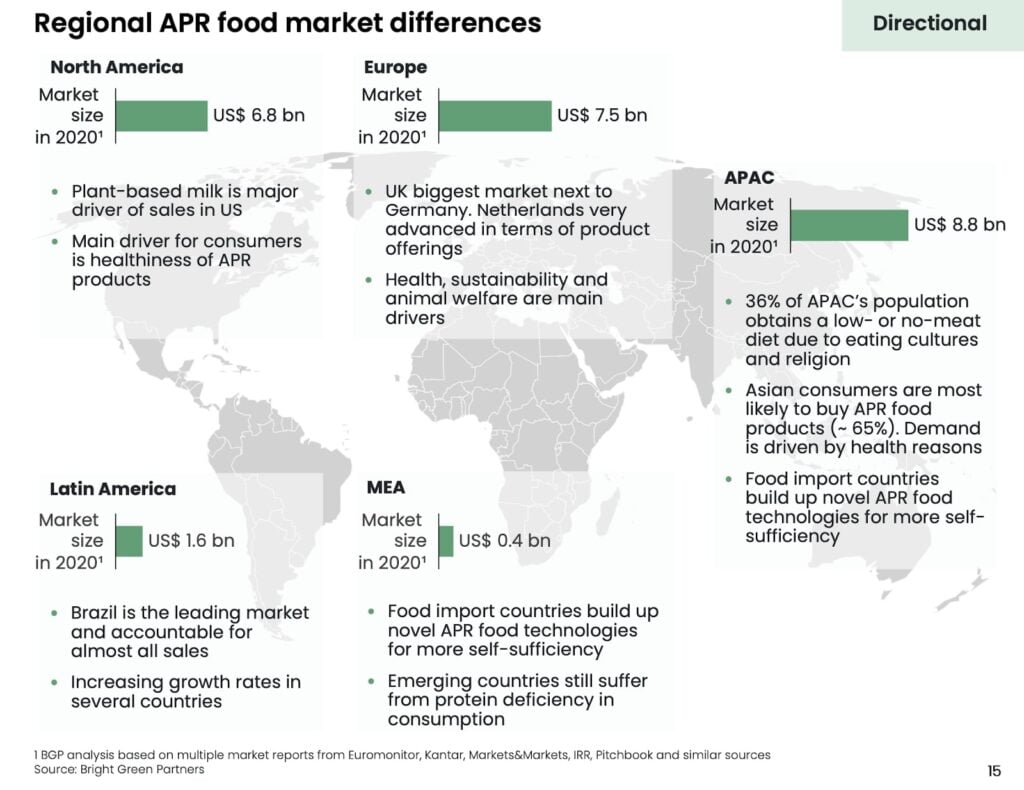 Currently, North America, Europe, and Asia-Pacific (APAC) make up around 85% of the global US$ 25 billion APR food market.
Health appears to be the biggest motivator for consumers to buy plant-based in both North America and APAC, whereas sustainability and animal welfare join health as the main drivers in European countries.
Latin America and Middle East & Africa (MEA) experience much lower demand but the promise of novel self-sufficient and climate-resistant technologies, such as biomass fermentation, are driving growth in these areas.
Market growth projections
After the analysis of over 25 different market reports, we have a clear idea of the prevailing predictions. Results suggest that the global meat alternatives market could grow from US$ 5 billion in 2020 to a range of US$ 10.8 billion up to 252 billion by 2030.
While these numbers are based on the wider APR data, the plant-based sector is a major part of this category and so we can be optimistic about its growth. And, as previously mentioned, fermentation and cultivation technologies are increasingly playing a significant role.
On the other hand, since these projections vary considerably, it's important that each company makes its own calculations rather than relying on a single or even a summary of multiple reports. If you're ready to take this step, reach out to us at Bright Green Partners.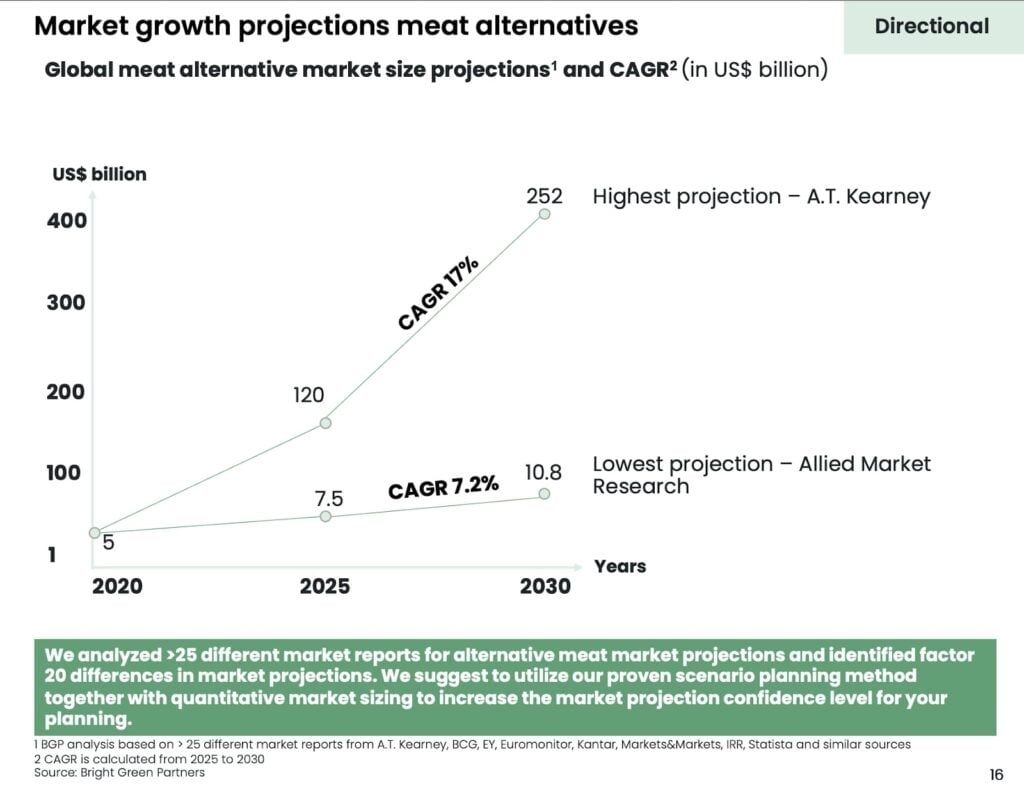 To continue growing at the rate necessary to feed the rapidly growing population, however, the APR industry must address some key challenges. To learn more, read our article on Alternative proteins: benefits, challenges, and opportunities.
Plant-based food trends to watch out for in 2023
Below are some of the top plant-based trends as we move into 2023, from the latest consumer expectations to the ingredient making headlines across the globe. As these movements lead to active investments, we can expect to see even further growth in these areas:
1. The next wave of hybrid products
The combination of ingredients and processes across the three production platforms (plant-based, cultivation, and fermentation) is fast becoming a key plant-based industry trend for 2023.
While hybrid products have been around for a while (e.g. Blue Ridge Bantam's lab-grown meat and Impossible Food's heme burger), the goal of creating animal product replacements with optimal sensory, nutritional, and functional attributes continues to drive companies to explore this approach further.
"Meatier" meat is an important plant-based meat trend for innovators to consider since it supports an easier transition to plant-based diets. What's more, as the global range of products continues to expand and improve, consumers will come to expect more authenticity.
There are, of course, numerous challenges surrounding capacity and infrastructure but novel hybrid formulations show great promise at scale to lower production costs and improve the overall quality of the end products.
2. There's so mush-room for more fungi opportunities
Fungi-derived protein (whether in whole mushroom form or as a product of fermentation) has come a long way since Quorn launched its first product in 1985. It's an ingredient with huge potential so it comes as no surprise that, once Quorn's patents on its mycoprotein production processes expired, fungi innovation advanced considerably.
Fungi have several advantages over plant-based proteins. For starters, they can be developed rapidly and in vast quantities using biomass fermentation, which requires a relatively small amount of land and resources.
Secondly, fungi produce naturally fibrous textures, which can be used to emulate various types and cuts of meat, without the requirement of additional processes such as high moisture extrusion. What's more, some species can be grown to produce flavors akin to meat and seafood, such as chicken of the woods and lion's mane, while other companies prefer to grow mycelium with a neutral flavor.
The nutritional profile of fungi is also desirable to food producers since they are rich in protein, dietary fiber, vitamins, antioxidants, and minerals. Some of them are even classed as adaptogenic and are popular as an ingredient in a new generation of functional foods and beverages such as Fungtn's alcohol-free beer.
Over the past couple of years, supermarket sales of fungi surged dramatically and a recent report predicts that the value of the global mushroom market will more than double by 2030.
And with natural environments still to explore and growing fungi databases ready to browse, there are endless opportunities to source fungi with your desired functional attributes. From MyForest Food's hybrid myco-bacon to Fable's hybrid BBQ 'Beef' Brisket, fungi is a plant-based food trend that does not appear to be slowing down.
3. A better plant-based spread from food service businesses
The news that Eleven Madison Park kept all three of its Michelin Stars despite transitioning to a fully plant-based menu made headlines last year. The International Director of Michelin Guides, Gwendal Poullennec, told the Financial Times that the ranking will "emphasize the importance of sustainability and inspire important changes within the culinary landscape."
And it's not just fine dining restaurants following the plant-based food trend; numerous restaurants and catering/food service groups are set to transition away from animal proteins. For example, Compass Group, the British food service conglomerate, has promised a 40% switch from animal proteins by 2030 to align with their net-zero targets.
Even governments are pushing for change; Germany is embracing the plant-based trend as part of its 2023 National Nutrition Strategy, which aims to make healthy and sustainable eating more accessible via food services, with a particular focus on government-run facilities such as hospitals, care homes, and schools.
As such, exciting opportunities lie in the collaboration between plant-based food innovators and the food service industry. Companies may wish to explore the examples of Oatly and Redefine and consider a B2B go-to-market strategy.
4. A sea of plant-based seafood opportunities
According to GFI, the number of plant-based seafood products sold in retail in the United States increased by 25% in 2021 and total U.S. retail sales grew by 14% in the past year. The high prevalence of seafood allergies and the rising costs of seafood products are both contributing factors toward the growing plant-based consumer trend to buy alternative seafood products.
And with over 200 edible species of seafood waiting to be emulated, a sea of opportunities awaits food innovators.
5. Budget-friendly flexitarianism
In May 2021, Co-op UK became the first major retailer to reduce the price of its vegan range to match the price of its meat and dairy-based counterparts, sometimes cutting as much as 50% off the original price tags.
The price match was part of the retailer's action plan to achieve net-zero emissions by 2040 but it's also been a huge hit with consumers.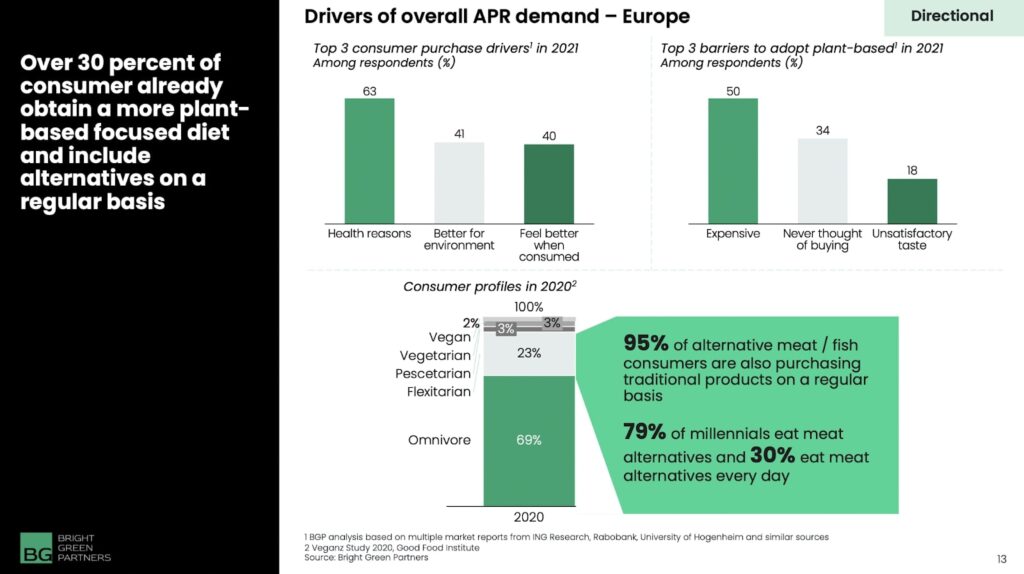 Over 30% of European consumers already strive to eat a more plant-based diet, including the consumption of alternatives on a regular basis. Combined with the change in consumer buying habits due to the global cost of living crisis, initiatives like the Co-op's are driving a budget-friendly flexitarianism plant-based protein trend.
Moving forwards
Animal product replacements continue to evolve and blaze new trails. Whether focusing on the plant-based sector or using a combination of technologies to create hybrid products, there are so many exciting plant-based trends on the horizon.
Industry players face some difficult choices. Knowing which trends to rely on will give you a major advantage compared to other entrants.
The increased inter-sectional cooperation and technological innovation are generating numerous opportunities and market projections. To succeed in the industry, players must develop a roadmap that explores all potential areas for opportunity exploration and collaboration.
For assistance evaluating the latest trends and projections, reach out to us at Bright Green Partners. We'll help you determine objective numbers to support fact-based decision-making while promoting a greater understanding of the alternative proteins industry.